mar 25, 1857 - Phonautograph
Description:
The phonautograph is the earliest known device for recording sound. Edouard-Leon Scott de Martinville patented the earliest known device that recorded sound from the air. Invented on March 25th, 1857, the phonautograph paved the way for future inventors who introduced the world not only better capable sound recording devices, but also sound reproducing devices. A few decades after his invention, the world was presented with the groundbreaking device made by Thomas Edison that would change the way we listen to music and the landscape of the music industry- the phonograph (otherwise known as the gramophone.) Even though Scott de Martinville never profited from the creation of the phonautograph, his invention fueled the imagination of other inventors who improved his designs which soon became almost forgotten… until in 2008, New York Times reported that they discovered one phonautogram with the recordings of a human voice. With the help of modern technology, scientists processed the recording and were able to recreate the sounds of traditions song that was performed by Scott himself. The song was recorded on April 9th 1960 and represents the earliest human voice recording in history
Added to timeline: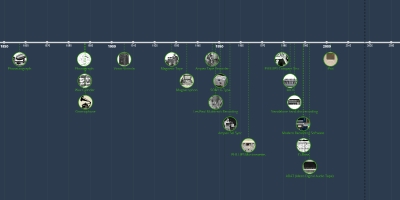 Unit 5: Music Technology in Context.
Date:
Images: