20h 20min, jul 10, 1989 y - Camica Fisher's Birthday
Description:
Personal account recorded by Dynah - 2017
Occupation: Corrections Officer
This single, independent woman is grateful to have been raised in a big, diverse family and environment because it's made her a very open, and accepting person. She never really experienced or witnessed any gender discrimination among her family. For example, all the kids played outside at the same time, and came in at the same time. She believes that Samoan people, as a whole, aren't very open/accepting to difference and change.
Added to timeline: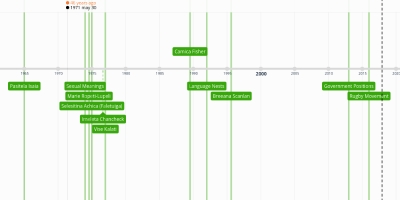 Samoan Women's Roles
Date: