2h 50min, jan 1, 2013 y - Government Positions
Description:
Stats collection by NUS: 2013-2015
Description: Women are struggling to gain part in leadership positions in Samoa. Many cultural factors are the causes of the low ratio of women to men in places like parliament seats. After surveying a number of villages about the cultural factor that limits the participation of women, it showed that most don't recognize women matai. Without the recognition of the villages, women cannot legally hold a political title.
D-Link: https://www.nus.edu.ws/s/index.php/87-nus/news-events/301-cultural-factors-continue-to-be-a-challenge-for-samoan-women-to-become-leaders
Added to timeline: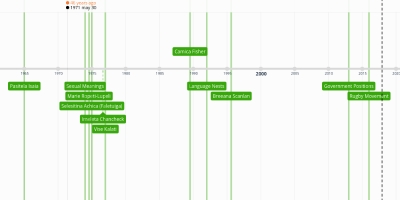 Samoan Women's Roles
Date:
Images: