4h 21min, aug 13, 1995 y - Breeana Scanlan's Birthday
Description:
Personal account recorded by Dynah - 2017
Occupation: Ship-fitter at Pearlharbor
Growing up in a Samoan family meant she was surrounded by sports. Breeana beleieves that all Samoan kids are raised with the main goals of graduate, get a job, and help the family out, which I can agree with. . Breeana played multiple sports, but her favorite and most played was volleyball, as was the same for many Samoan girls. Breeana believes that volleyball was just the norm for Samoan girls, and so was football for Samoan boys. Breeana emphasizes on the stigma that if you're a Samoan boy, you're expected to be playing football, and if you aren't then the initial thought is, "What's wrong with you?"
Added to timeline: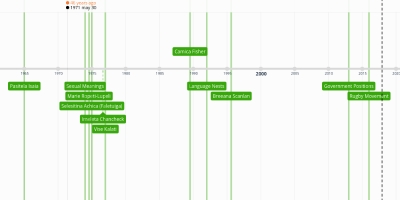 Samoan Women's Roles
Date: