apr 9, 1866 - Civil Rights Act of 1866
Description:
The first United States federal law to define citizenship and affirm that all citizens are equally protected by the law. It was mainly intended, in the wake of the American Civil War, to protect the civil rights of persons of African descent born in or brought to the United States. This legislation was passed by Congress in 1865 and vetoed by United States President Andrew Johnson. In April 1866 Congress again passed the bill to support the Thirteenth Amendment. Johnson again vetoed it, but a two-thirds majority in each chamber overrode the veto to allow it to become law without presidential signature.
With an incipit of "An Act to protect all Persons in the United States in their Civil Rights, and furnish the Means of their vindication", the act declared that all people born in the United States who are not subject to any foreign power are entitled to be citizens, without regard to race, color, or previous condition of slavery or involuntary servitude. A similar provision (called the Citizenship Clause) was written a few months later into the proposed Fourteenth Amendment to the United States Constitution.
The Civil Rights Act of 1866 also said that any citizen has the same right that a white citizen has to make and enforce contracts, sue and be sued, give evidence in court, and inherit, purchase, lease, sell, hold, and convey real and personal property. Additionally, the act guaranteed to all citizens the "full and equal benefit of all laws and proceedings for the security of person and property, as is enjoyed by white citizens, and ... like punishment, pains, and penalties..." Persons who denied these rights on account of race or previous enslavement were guilty of a misdemeanor and upon conviction faced a fine not exceeding $1,000, or imprisonment not exceeding one year, or both.
Added to timeline: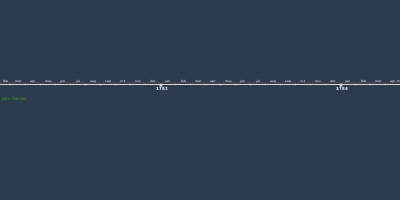 History of Leadership In The States
Date: