may 1, 1982 - 1980 Government Shutdown
Description:
The first federal government shutdown in the United States. It affected only the Federal Trade Commission for one day. Congress had allowed its funding to lapse as part of an effort to pass an authorization bill that would limit its powers, but the Carter Administration for the first time enforced a shutdown of a federal agency based on a new interpretation of the 1884 Antideficiency Act, causing new funding to be approved that evening. The shutdown caused the furlough of 1,600 employees and cost the government $700,000 (equal to $1.8 million in 2018), mostly as a result of lost labor.
Prior to 1980, federal funding gaps caused by the expiration of appropriations legislation did not lead to government shutdowns. This was technically noncompliant with the Antideficiency Act, a law passed in 1884 that made it illegal to expend government funds without a Congressional appropriation under most circumstances because it was believed that Congress did not intend the cessation of government services under these circumstances.
Over the course of the 1970s, there were many funding lapses often caused by tangential issues. In the course of legislative research, a staffer for Representative Gladys Spellman came across the Antideficiency Act provisions, and Spellman contacted Comptroller General Elmer Staats for an opinion. Staats responded that "we do not believe that the Congress intends that federal agencies be closed during periods of expired appropriations". However, Attorney General Benjamin Civiletti overruled this on April 25, 1980, issuing an opinion that the Antideficiency Act did require agencies to shut down during a funding gap.
Carter threatened to shut down the entire government if Congress did not pass appropriations legislation by the beginning of the next fiscal year on October 1, 1980, but this did not come to pass. Civiletti issued a revised opinion on January 18, 1981, that softened some aspects of the shutdown, allowing work that protects human safety or property to continue. A widespread government shutdown affecting more than one agency did occur for the first time during the Reagan administration, on November 23, 1981.
Added to timeline: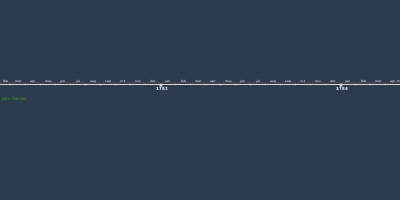 History of Leadership In The States
Date:
YouTube: