apr 4, 1841 - William Henry Harrison Dies
Description:
On March 26, 1841, Harrison became ill with a cold after being caught in a torrential downpour without cover. His symptoms grew progressively worse over the next two days, at which time a team of doctors was called in to treat him. The prevailing misconception at the time was that his illness had been caused by the bad weather at his inauguration three weeks earlier. The doctors diagnosed him with right lower lobe pneumonia, then placed heated suction cups on his bare torso and administered a series of bloodlettings to draw out the disease. Those procedures failed to bring about improvement, so the doctors treated him with ipecac, castor oil, calomel, and finally with a boiled mixture of crude petroleum and Virginia snakeroot. All this only weakened Harrison further.
Harrison died on April 4, 1841, nine days after becoming ill and exactly one month after taking the oath of office; he was the first president to die in office.
Added to timeline: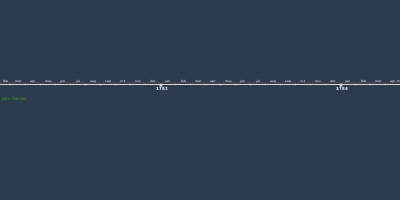 History of Leadership In The States
Date: