may 8, 1792 - Second Militia Act of 1792
Description:
Provided for the organization of the state militias. It conscripted every "free able-bodied white male citizen" between the ages of 18 and 45 into a local militia company. (This was later expanded to all males, regardless of race, between the ages of 18 and 54 in 1862.)
Militia members, referred to as "every citizen, so enrolled and notified", "...shall within six months thereafter, provide himself..." with a musket, bayonet and belt, two spare flints, a box able to contain not less than 24 suitable cartridges, and a knapsack. Alternatively, everyone enrolled was to provide himself with a powder horn, ¼ pound of gunpowder, 20 rifle balls, a shot-pouch, and a knapsack. Some occupations were exempt, such as congressmen, stagecoach drivers, and ferryboatmen.
The militias were divided into "divisions, brigades, regiments, battalions, and companies" as the state legislatures would direct. The provisions of the first Act governing the calling up of the militia by the president in case of invasion or obstruction to law enforcement were continued in the second act. Court-martial proceedings were authorized by the statute against militia members who disobeyed orders.
Added to timeline: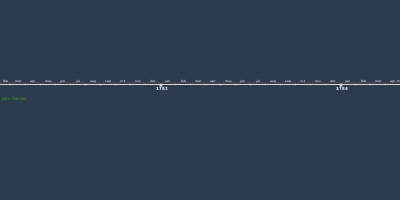 History of Leadership In The States
Date: