22h 37min, mar 3, 1820 y - The Missouri Compromise
Description:
Since the beginning of the nineteenth-century, the political balance between North and South had been maintained by admitting alternately slave and free states. The more populous North had come to dominate the House of Representatives and the South now sought to redress the balance. Missouri is admitted to the Union as a slave state but in the future, states north of Missouri and the 36°30′ latitude line would be admitted only if they were free (except for California, which was admitted to the Union in 1850 as a free state despite the parallel divide).
Added to timeline: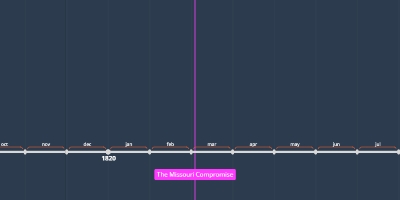 fy78cymyuhdrzx fgn
DUCKS!!!!!!!!!!!!!!!!!!!!!!!!!!!!!!!!!!!!!!!!!!!!!!!!!!!!!!!...
Date: