jan 1, 13 BC - Acta Diruna
Description:
The Acta Diruna is said to have first appeared around 131/130 BC during the Roman Republic. At this point of time, the Acta Diurna , which were known also as the Acta Popidi or Acta Publica , was carved on stone or metal. As the Acta Diurna were meant to reach a public audience, they were placed at public places, such as the forum, the markets, or the thermal baths. Initially these notices reported 'serious' news of importance to the Roman populace, such as the results of legal proceedings, and the outcomes of trials.
Interaction: As a Generation Z student, we did not have the opportunity to interact with the Acta Diurna as it appeared around 130/131 BC. Maybe some of us had seen it in selected museums but didn't really get to fully interact with it.
Added to timeline: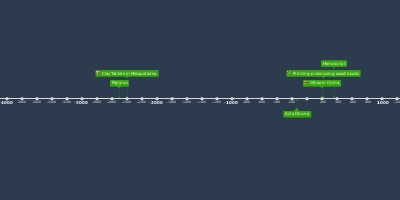 Pre Industrial Age
Date:
Images: