jan 1, 2400 BC - Clay Tablets in Mesopotamia
Description:
In the Ancient Near East, clay tablets (Akkadian ṭupp were used as a writing medium, especially for writing in cuneiform, throughout the Bronze Age and well into the Iron Age. Cuneiform characters were imprinted on a wet clay tablet with a stylus often made of reed (reed pen).
Interaction: In today's time, clay tablets are not used as a writing medium anymore because papers are invented. There are many writing mediums that were invented which helped many people to save time when writing.
Added to timeline: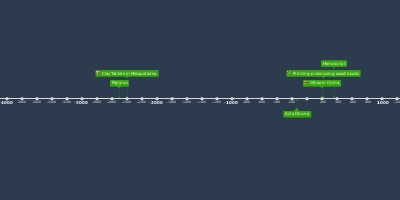 Pre Industrial Age
Date:
Images: