sep 29, 1977 - Food and Agriculture Act of 1977
Description:
Title XIII is the act that permanently amended the Food Stamp Act of 1964 by simplifying the eligibility requirements and eliminating the purchase requirement.
The bill also made the USDA the lead federal agency for agricultural research, teaching programs, and extension. The funding was also consolidated for all those programs.
The bill added a quota on peanut growers. The program gave producers an acreage allotment and set a poundage quota for that allotment. The quota could be exceeded but the growers would receive a higher amount of the price-support levels for just the quota amount.
Added to timeline: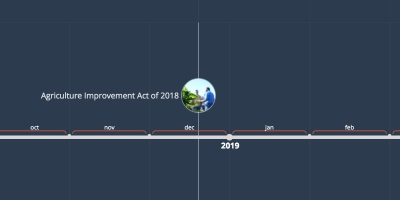 Farm Bill 2018
AGEC110 FINAL
Date:
Images: