jan 4, 1858 - Kansas Voters Reject the Lecompton Constitution
Description:
what was it- In 1857, the Lecompton Constitution was created which allowed Kansas to be a slave state. Pro-slavery forces supported by President James Buchanan attempted to push the Constitution through the U.S. Congress for acceptance. However, there was enough opposition that in 1858 it was sent back to Kansas for a vote. Even though it delayed statehood, Kansas voters rejected the Constitution and became a free state.
how did it lead to the Civil War- This caused the pro-slave people to be angry at the constitution and government because they could not get what they wanted so they ignored the government.
Added to timeline: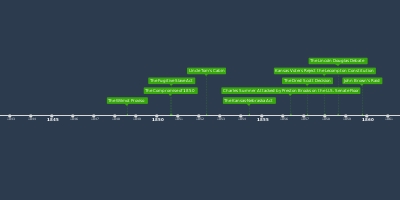 Crisis of the Union Timeline
Date: