oct 16, 1859 - John Brown's Raid
Description:
what was it- After the Pottawatomie Massacre during Bleeding Kansas, Brown returned to the North and plotted a far more threatening act. In October 1859, he and 19 supporters, armed with "Beecher's Bibles," led a raid on the federal armory and arsenal at Harpers Ferry, Virginia, in an effort to capture and confiscate the arms located there, distribute them among local slaves and begin armed insurrection.
How did it lead to the Civil War- This Massacre caused more conflict between the North and South. There were many casualties on both sides which caused everyone to become angry.
Added to timeline: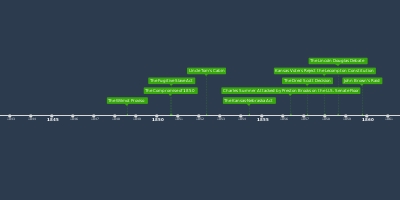 Crisis of the Union Timeline
Date: