mar 6, 1857 - The Dred Scott Decision
Description:
what was it- Dred Scott was a Virginia slave who tried to sue for his freedom in court. The case eventually climbed its way up to the level of the Supreme Court. The justices there found that, as a slave, Dred Scott was a piece of property that had none of the legal rights or recognitions afforded to a human being.
how did it lead to the Civil War- The classification of slaves as property made the federal government's authority to regulate the institution much more ambiguous.This caused slavery polarization to intensify.
Added to timeline: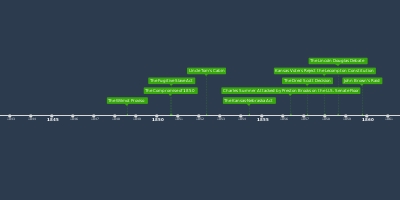 Crisis of the Union Timeline
Date: