may 30, 1854 - The Kansas-Nebraska Act
Description:
what was it- established Kansas and Nebraska as territories and set the stage for "Bleeding Kansas" by its adoption of popular sovereignty. Under popular sovereignty, the residents of the territories decided by popular referendum if the state was to be a free or enslaved.
How did it lead to the Civil war- North and South settlers both poured into Kansas hoping to enlarge the numbers on their sides of the debate. The settlers resulted to violence and pro-slavery supporters killed two people who were anti-slavery in the Pottawatomie Creek Massacre.
Added to timeline: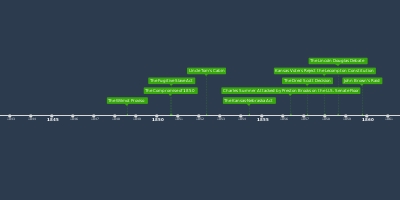 Crisis of the Union Timeline
Date: