sep 1, 1850 - The Compromise of 1850
Description:
What was it- The compromise admitted California as a free state and did not regulate slavery in the remainder of the Mexican cession all while strengthening the Fugitive Slave Act, a law which compelled Northerners to seize and return escaped slaves to the South.
How did it lead to the civil war- While the agreement succeeded in postponing outright hostilities between the North and South, it did little to address, and in some ways even reinforced, the structural disparity that divided the United States. The new Fugitive Slave Act, by forcing non-slaveholders to participate in the institution, also led to increased polarization among centrist citizens.
Added to timeline: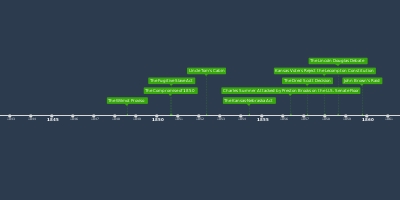 Crisis of the Union Timeline
Date: