jan 1, 1861 - W.B. Rogers made Inspector of Gas and Gas Meters for the State of Massachusetts
Description:
At the request of his friend Governor Andrew, in 1861, he
accepted the office of Inspector of Gas and Gas Meters for the
State of Massachusetts, and organized a system of inspection
in which he aimed to apply scientific principles more fully than
had hitherto been attempted in the United States. Some ac-
count of his methods was given by him at the meeting of the
British Association in 1864. During this time Prof. Rogers
was often called upon for public lectures on scientific subjects
in Massachusetts and elsewhere, and gave several courses
before the Lowell Institute in Boston.
Added to timeline: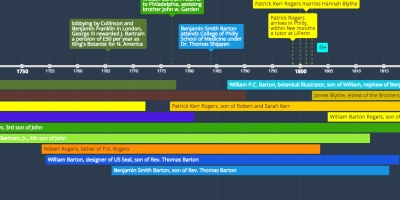 Bartram Barton
Date: