jun 11, 2001 - Game Boy Advance
Description:
The next Game Boy console is the Game Boy Advance also known as the GBA. The console is a huge step up from the original console with the buttons being moved to ether side of the larger and higher resolution screen but now with a "L" and "R" shoulder buttons. The system took two AA batteries and was the last handheld console to require regular batteries. The GBA had some amazing exclusive games that were major titles for the consoles including The Legend of Zelda: The Minish Cap, Pokémon Ruby, Sapphire and Emerald, Metroid Fusion and Mario & Luigi: Superstar Saga to name a few. Along with these game there's also the SNES port that are available on the GBA like Super Mario World, The Legend of Zelda: A Link To The Past and Donkey Kong Country. The major criticism about the console was the lack of a backlit screen which made the display difficult to see in some conditions. Along with the consoles new design there's also a new design for the game cartridges. The storage mediums are half the size of the old cartridges. This means that when the player plays an Original or Color Game Boy games the cartridges will stick out of the top of the console. There also GBA specific accessories like the Nintendo GameCube Game Boy Advance Cable which allows the player to plug their GBA into their Nintendo GameCube. Some Nintendo GameCube games have mini games that can be downloaded onto a connected GBA device and this cable allows this to happen. This also works with Nintendo Wii version 1 (as the second version cant play GameCube games. The Nintendo e-Reader slots into the GBA cartridge slot and is used to scan e-Reader cards to play min games and ported NES games and also unlock special content for certain Game Boy Advance and GameCube games. Game Boy Advance Wireless Adapter is used so two GBA's and link together if both the console have a Game Boy Advance Wireless Adapter. The Game Boy Advance SP headphone adapter allows the user to plug headphones with a 3.5 headphone jack so they can play with sound whiles on in public with out disturbing anyone.
(Images contain photos of each peripherals in the order that I've mentioned them).
Added to timeline: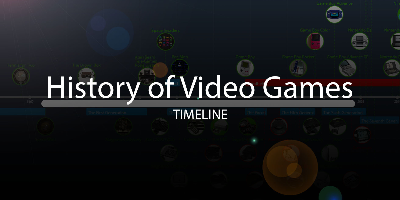 History of Video Games
I have been approached by the gaming magazine EDGE to design...
Date:
Images: