jan 15, 1803 - Robert Rogers, father of P.K. passes, P.K goes to England for 1 yr
Description:
" In the year 1803 I was engaged in full business
in Philadelphia as a physician, and the products of
my practice were more than equal to my current ex-
penses. But I was encumbered with smsill debts to a
considerable aggregate amount, perhaps three thou-
sand doUars, gradually contracted during the first
years of my professional and family establishment.
My father dying in 1803, I thought it important to
go to Ireland to adjust family affairs, and to obtain
that share of property to which I was entitled. I was
barely able to bring to Philadelphia, after an absence
of almost a year, as much money as paid my debt.
This agreeable business I performed promptly, and
when done I had neither money nor an establishment.
Added to timeline: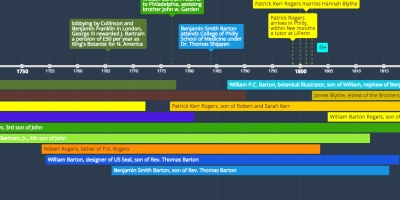 Bartram Barton
Date: