may 10, 1802 - P.K. Rogers Doc of Medicine U Penn
Description:
"In May, 1802, Mr. P. K. Rogers received the
degree of Doctor of Medicine from the University of
Pennsylvania. His thesis on Liriodendron tulipi-
fera (the tulip-tree), in which he records the results
of experimental observations of its chemical and ther-
apeutic properties, was printed and is extant. A
son, James Blythe, the eldest of the brothers Rog-
ers, was born in Philadelphia, February 11, 1802.
The city directory for 1802 states that P. K. Rogers,
M. D., lived at No. 55 Lombard Street, implying that
he had established a home for himself very soon after
his marriage." ^
Added to timeline: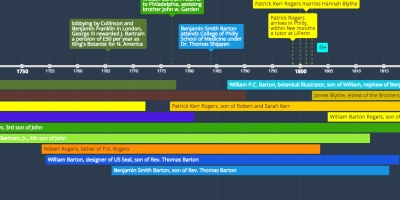 Bartram Barton
Date: