jan 29, 1801 - Patrick Kerr Rogers marries Hannah Blythe
Description:
https://archive.org/stream/cu31924012485391/cu31924012485391_djvu.txt
"Hannah Blythe was the youngest daughter of
James Blythe, a native of Glasgow but a resident
of Londonderry, and his wife Bessie, a daughter of
James Bell, a mathematical-instrument maker and
an English citizen of Londonderry. James Blythe
was a publisher and stationer. He founded, in 1772,
the ' Londonderry Journal,' the first tri-weekly paper
printed in the North of Ireland. It became a daily,
and is still published. . . . The paper was printed
and issued from the house in which he lived. His
daughter, Mrs. Eamsay, who died in Baltimore at the
advanced age of ninety-two years, often mentioned,
among the reminiscences of her early childhood, the
gathering of a crowd reading a placard on the front
of their house, headed ' Bloody News from Amek-
ICA,' announcing the battle of Lexington, April, 1775.
She also stated that many Protestant citizens rejoiced
over this resistance of Americans to the British rule.
" James Blythe died in 1787, leaving a widow and
three daughters, Elizabeth, Mary Ann and Hannah.
The widow, Bessie Bell, who was an intelligent and
energetic woman, removed to Strabane, about fifteen
miles southward from Londonderry, took into part-
nership a foreman from the old establishment, and set
up and conducted a newspaper till she died in 1794.
The business was unprofitable. The daughters were
left without support. They promptly determined to
emigiate, embarked in a ship belonging to their
cousin, Adam Crampton, of Londonderry, and, after
a voyage of three months, arrived in Philadelphia.
They were received by their cousin, wife of Thomas
Moore, merchant, who had left Coleraine some time
before on account of his affiliation with the ' United
ARRIVAL IN AMERICA. 7
Irishmen.' These daughters are described as active,
intelligent women, and being, like most ladies of that
period, proficient in the use of the needle, with it
supported themselves respectably and independently.
Added to timeline: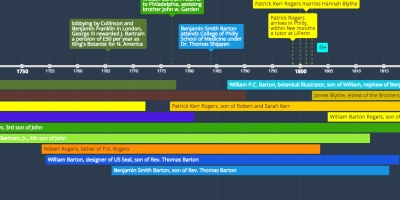 Bartram Barton
Date: