dec 26, 1799 - Patrick Kerr Rogers becomes student of Drs. Benjamin Smith Barton & Benjamin Rush
Description:
https://archive.org/stream/cu31924012485391/cu31924012485391_djvu.txt
In the winter of 1799 he was admitted to the
Pennsylvania Hospital as a student of the eminent
Drs. Benjamin Smith Barton and Benjamin Rush,
and to certain medical lectures of the University of
Pennsylvania by Drs. Shippen and Wistar. He at-
tended also lectures on chemistry in 1799 and 1800 by
Dr. James Woodhouse. During these years a warm
friendship existed between him and his preceptor. Dr.
Barton, to whom he dedicated his graduating thesis,
and after whom he named his second son William
Barton Rogers. While still in the medical school he
was married, January 2, 1801, to Hannah Blythe, " an
intelligent woman, a year older than himself, endowed
with a cheerful and affectionate disposition."
Added to timeline: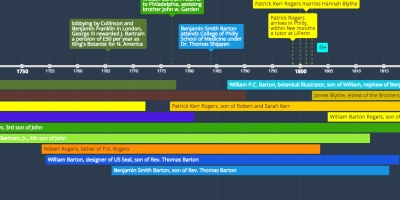 Bartram Barton
Date: