sep 12, 755 - Chun Wang was written by Du Fu
Description:
Chun Wang 春望
国破山河在,城春草木深。
感时花溅泪,恨别鸟惊心。
烽火连三月,家书抵万金。
白头搔更短,浑欲不胜簪。
This is an example of one of Du Fu's many poems. Written about a peaceful town after the devastation of a war, it could be that he wrote it in the midst of the LuShan Rebellion, in 755 AD, hoping that the civil war would cease.
Added to timeline: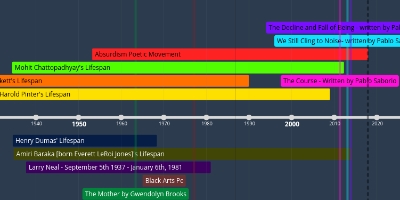 A Timeline of the First Five Poetic Movements
This is a timeline of the first five poetic movements: Absur...
Date: