jan 13, 1943 - Bruno and Gretel get Homeschooled.
Description:
Bruno and Gretel get home schooled and their teacher is Herr Liszt, he is a history and Geography teacher. To Bruno, Herr Liszt seems freindly most of the time but there seems to be an anger behind his eyes just waiting to jump out.
Herr Liszt was hired because mother and father thought that there should be something to fill Gretel's and Bruno's mornings and afternoons. Bruno tells Herr that he likes exploring and knows about the Middle Ages. Herr Liszt says that he will teach about Germany, their father land and European History as well as the Geography of Europe.
Added to timeline: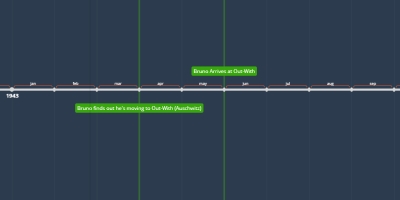 The Boy in the Striped Pyjamas Novel - Timeline
Date: