jan 3, 1971 - karaoke machine
Description:
karaoke styled machine was invented by Japanese musician Daisuke Inoue in Kobe, japan. As the legend goes, Inoue was working a nightclub, accompanying businessmen who wanted to sing, when one executive asked him to come along and back up his warbling on an out-of-town trip. Inoue couldn't leave his regular gig, so he shared a tape of his instrumental. Then he invented the karaoke to allow him self to be recorded.
Added to timeline: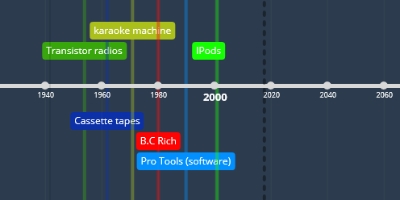 Technology in music through time.
how Technology had developed overtime.
Date:
Images: