jan 1, 1983 - MIDI Technology was standardised.
Description:
Musical Instrument Digital Interface (MIDI) was invented by a company called Sequential Circuits in 1982. It was created to link together multiple synths from different manufactures, as the market before MIDI was filled with companies using their own interface that wasn't compatible with other interfaces. The first MIDI synths were Roland's Jupiter-6 and Sequential Circuits' Prophet 600.
Since MIDI is only performance data, it does not carry audio. Performance data includes what key is pressed, the velocity of that key, when a key is no longer being held down, any type of modulation (eg. pitch bend) and volume. It has been used in technology other than to create music in things like stage lights and pyrotechnics.
Added to timeline: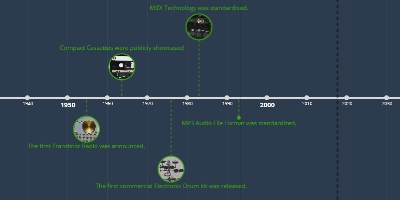 Music Technology
Date:
Images: