jan 1, 1822 - Brazilian Independence
Description:
Napoleon's​ ​invasion​ ​of​ ​Portugal​ ​had​ ​sent​ ​the​ ​king​ ​and crown​ ​prince,​ ​Pedro​ ​fleeing​ ​to​ ​Brazil​ ​several​ ​years earlier.​ ​ ​With​ ​Napoleon's​ ​defeat,​ ​the​ ​king​ ​eventually returned​ ​to​ ​Portugal.​ ​ ​Shortly​ ​thereafter,​ ​Pedro​ ​and​ ​the ruling​ ​elite​ ​of​ ​Brazil​ ​petitioned​ ​the​ ​king​ ​to​ ​allow​ ​Brazil to​ ​become​ ​an​ ​independent​ ​nation​ ​with​ ​Pedro​ ​as​ ​its leader.​ ​ ​The​ ​king​ ​of​ ​Brazil​ ​agreed.​ ​ ​This​ ​was​ ​a​ ​relatively
bloodless​ ​revolution​ ​in​ ​comparison​ ​to​ ​those​ ​in​ ​other parts​ ​of​ ​Latin​ ​America.
Added to timeline: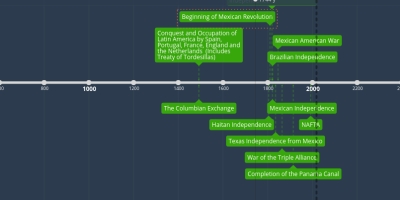 Latin American History
Date: