mar 29, 2013 - MS open letter
Description:
MS asks DS to answer several questions at shareholders meeting.
Claims mark down was due to DS mismanagement after acquisition.
States DS are acting aggressively
- making making highly damaging public accusations without providing any supporting evidence, either to the public or to the people they have accused.
- pre-empting announcements by regulatory authorities and not waiting long periods to disclose information.
Stringer is demanding to see report by Timms, Simms and Hogden (TSH) on which DS's accusations are based
Also to be told the findings of a committee which he claims was appointed by DS to investigate the circumstances behind the acquisition.
MS asks if: DS had approached the UK Takeover Panel, which supervises the acquisition of publicly listed companies, in an attempt to rescind its offer to buy Monarch before the deal was voted through by shareholders.
Added to timeline: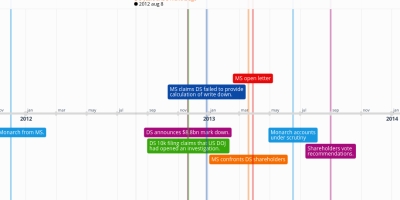 Silicon Fen case
Date: