jun 21, 2000 - XXI century: P-P-P Model
Description:
The programs for Language Teaching that are being used in XXI century are:
P-P-P Model stands for:
-Presentation (P1)
–Practice (P2)
–Production (P3).
And it correlates with the psychological sequence of processes that leads to the acquisition of cognitive skills.
And also, The seven C's skills program is used nowadays for an effective Language learning. the 7C's are:
1. critical thinking and problem solving,
2. creativity and innovation,
3. collaboration, teamwork, and leadership,
4. cross-cultural understanding,
5. ccommunication and media literacy,
6. computing and ICT literacy, and
7. career and learning self-reliance.
Added to timeline: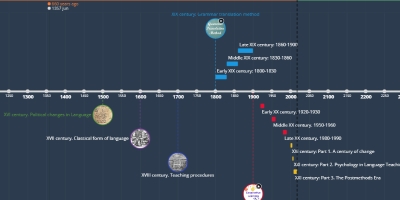 A brief story of Language Teaching
Edna María Salomón López - Applied linguistics X01
Date:
Images:
YouTube: