jan 1, 1957 - EMT 140 reverberation unit
Description:
In 1957, German company EMT (Elektromesstecknik)joined in with the popularity of reverb when they created the first ever Plate Reverberation, which was a large steel plate, a small speaker and two transducers. This was a huge benefit to a lot of studios as they no longer needed a huge room to get the reverb they had wanted.
The a plate reverb is made up of a large (2x3m), thin piece of sheet metal suspended from a steel frame by spring tensioners at each corner. An electrical transducer mounted to the center of the suspended plate induces plate movement, which creates the effect. One or two (mono or stereo) pickups are mounted to the plate as well, for the reverb return. A damping plate controlled by a servo motor, allowed adjustment of the reverb time. All of these simple elements were built into a heavy wooden enclosure.
Typically the engineer sets his decay with the damper control, and runs the reverb return through additional EQ at the board for greater tone shaping capabilities.
Added to timeline: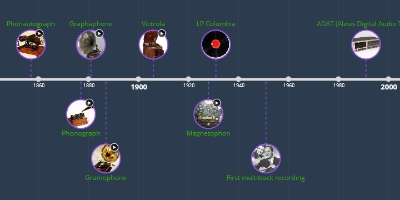 Recording Technology in History
rEcOrDiNgTeChNoLoGyInHiStOrY
Date:
Images: