feb 1, 2017 - New Strategy
Description:
On February 1, 2017, a US government report says that losses of Afghan security forces have climbed by 35 percent in 2016 compared with the previous year.
On February 9, the US general in command of the NATO force, General John Nicholson, warns that he needs thousands more troops, telling Congress: "I believe we're in a stalemate."
On August 21, Trump cleared the way for the deployment of thousands more US troops to Afghanistan in his first formal address to the nation as commander-in-chief.
Following the president's speech, US Defense Secretary James Mattis announced that America and several allies have committed to boosting their troop numbers in Afghanistan.
Senior White House officials say Trump has already authorised Mattis to deploy up to 3,900 more troops to Afghanistan.
Added to timeline: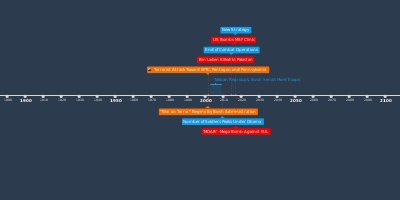 War on Terror
Date: