feb 6, 1919 - Constituition and proportional representation
Description:
1. Proportional System of Government in Reichstag
-Allowed many political parties to gain seats, but no single party could gain total authority.
-Result: Formation of many coalition governments. They could not reach compromises on many issues frequently Coalition governments did not last long. From 1919 to 1933, 20 different coalition governments.
-Governments with short lifespan were disruptive and the German public was left with the impression that the new democratic system could not get things done.
2.Article 48 of Weimar Constitution
-It was difficult to define what was an emergency and hence it was open to exploitation.
-This happened when Hitler exploited Article 48 to establish total control under the excuse of 'emergency' rule in times of instability.
TB pg 66
Added to timeline: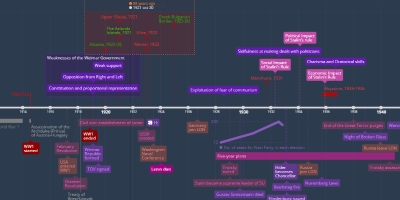 Elective History
Combined Humanities 2267
unfinished; only did Chpt 1-3++
Date: