feb 6, 1919 - Weimar Republic formed
Description:
1918: Germany virtually defeated by Allied powers and entry of USA in World War I.
Germany's emperor—Kaiser Wilhelm II abdicated and World War I ended officially on 11 November 1918.
A new democratic Weimar Republic was established in 1919. Friedrich Ebert became its first President.
Under the Weimar constitution, all citizens had the freedom of speech and religion.
All German citizens over twenty could vote in elections and decide on its leaders. Instead of the Kaiser, there was to be an elected President and Parliament (Reichstag). The Reichstag would be responsible to make laws.
Added to timeline: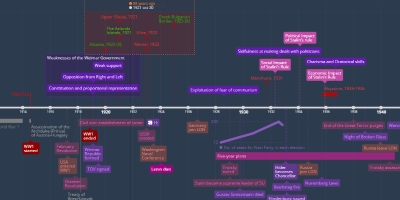 Elective History
Combined Humanities 2267
unfinished; only did Chpt 1-3++
Date: