mar 20, 1854 - Republican Party Forms
Description:
Abraham Lincoln
This party was mainly comprised of ex-Whigs, abolitionists, and Free-soilers after the Kansas-Nebraska Acto of 1854. The main thing that held them together was that they all opposed was slavery, "which they argued, drove down the wages of free workers and degraded the dignity of manual labor."
The rise of another political party that was against slavery was another source of pressure being put on the southern states, especially since not only did Abraham Lincoln help lead the Republican party's motives but the extreme anti-slavery portion was one of the strongest ideals in the country, getting at least some sort of support from most northerners.
Added to timeline: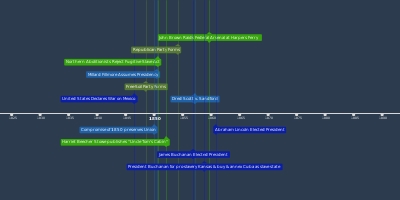 Events Leading up to The Civil War
Date: