nov 28, 1856 - James Buchanan Elected President
Description:
James Buchanan
Buchanan arose through the three-way tie between himself, Fremont, and Fillmore, winning by roughly .5 million popular votes and 60 electoral votes. At this point in time, since he won the presidency, it was up to him "to quiet the passions of the past decade and to hold the Democratic Party - the only national party - together."
Buchanan, has been the glue that was to hold the Republican party together, was one of the only things keeping the pressure from the Republican party on the southern states, especially since he was pro-southern. Even worse, he was representing the south though he was anti-slavery.
Added to timeline: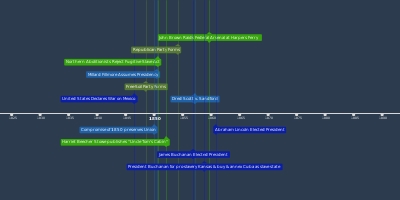 Events Leading up to The Civil War
Date: