nov 12, 1858 - President Buchanan for pro-slavery Kansas & buy & annex Cuba as slave state
Description:
Buchanan, Roger B. Taney, Stephen Douglas
From the opening of the opinionated attack, Buchanan had been in a stage of defensive authority. He had been opened up to support the South with his pro-slavery agenda. He had decided that since he was supposed to support the south, he had ignored the reports of the antislavery residents who held a clear majority of the population in Kansas and greatly pressured Congress to admit Kansas as a slave state. Unfortunately, Stephen Douglas snapped with Buchanan and talked Congress into denying statehood for Kansas for the time being. Still attempting to aid the South, Buchanan continued to negotiate the purchase and annexation of Cuba for a slave state.
While Buchanan was trying to support the south, it only seemed to spread the national connections even further. The South was being given an even worse name due to Buchanan's mistakes, strengthening the feelings of the nations abolitionists.
Added to timeline: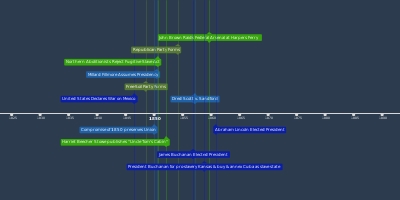 Events Leading up to The Civil War
Date: