oct 16, 1859 - John Brown Raids Federal Arsenal at Harpers Ferry
Description:
John Brown
John Brown, an abolitionist with no bounds, "led eighteen heavily armed black and white men in a raid on the federal Arsenal at Harpers Ferry, Virginia. Brown hoped to arm slaves with the arsenal's weapons and mount a major rebellion to end slavery." Though he had failed, he showed the major point that "freedom and slavery were locked in 'an irrepressible conflict'.
Though his raid was unsuccessful, he did prove to show that things were only getting worse. By common thought, the 'fire-eaters' from the southern Democratic party seemed to have the best idea for the south, openly supporting secession. The South could no longer trust the Democratic Party to protect the interests to protect slavery in their territories.
Added to timeline: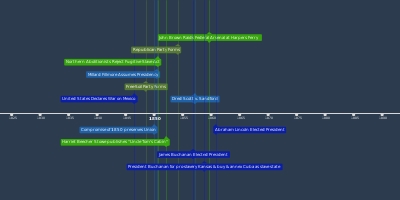 Events Leading up to The Civil War
Date: