mar 20, 1852 - Harriet Beecher Stowe publishes "Uncle Tom's Cabin"
Description:
Harriet Beecher Stowe
The publication of her novel, "Uncle Tom's Cabin", was one that gained extreme favor from abolitionists as well as British citizens. It sparked a discussion of race and slavery in a rather different conversation than what is normally talked about. It also received the attention of state legislators in the north who protested that "the Fugitive Slave Act violated state sovereignty" as well as causing them to pass "personal-liberty laws that guaranteed to all residents, including alleged fugitives, the right to a jury trial." After the extra boost from this novel, the law that was the Fugitive Slave Act was considered "a dead letter."
Once again, the southern states lose the position in which they had held with pride, and this position would be that of being able to retrieve the slaves that had attempted to run away. The initial fear of losing the slaves that had run away had not only come back, but it has also been enhanced due to the amount of initial hatred and violence that had been brought with the entrance of the Fugitive Slave Act. Distrust continues to grow between the South and the North.
Added to timeline: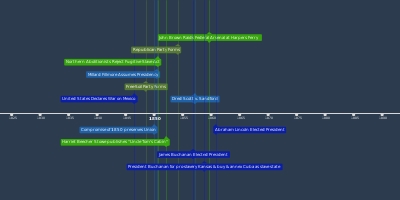 Events Leading up to The Civil War
Date: