sep 18, 1850 - Northern Abolitionists Reject Fugitive Slave Act
Description:
Whenever the Northern Abolitionists had been informed of this act, it quickly became the most controversial laws of the compromise. Gaining public disapproval in the north rather quickly. The rejection soon led to violent actions after the more peaceful pursuits were not working well enough. For example, "Precisely such a deadly result occurred in Christiana, Pennsylvania, in September 1851, when twenty African Americans exchanged gunfire with Maryland slave catchers." Not long after all of the violent actions towards the Fugitive acts started, Harriet Beecher Stowe released the novel "Uncle Tom's Cabin" which quickly lead to further opposition for the Fugitive Slave Act, even from Britain.
This amount of damage caused by not only the violent breakouts from the Fugitive Slave Act but also the overall dislike for slavery could also easily install fear within the hearts of southerners, showing the amount of damage the northerners and anti-slavery supporters would do if threatened by slavery. This could easily push the southern states to gain distrust for anti-slavery states, easily allowing a push for succession.
Added to timeline: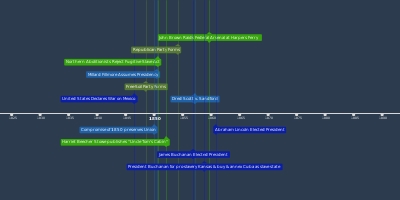 Events Leading up to The Civil War
Date: