jan 1, 1990 - the common murduer law
Description:
"Intent-to-kill murder"
"Grievous-bodily-harm murder" - Killing someone in an attack intended to cause them grievous bodily harm. For example, if the defendant fatally stabbed the victom, even if the defendant only intended to wound the victim, the defendant would still be liable for murder.
"Felony-murder" - Killing someone while in the process of committing a felony. Note that at common law, there were few felonies, and all carried the death penalty. For example, at common law, robbery was a felony. So if a robber accidentally killed someone during a robbery, the robber could be executed.
"Depraved heart murder" - Killing someone in a way that demonstrates a callous disregard for the value of human life. For example, if a person intentionally fires a gun into a crowded room, and someone dies, the person could be convicted of depraved heart murder.
Added to timeline: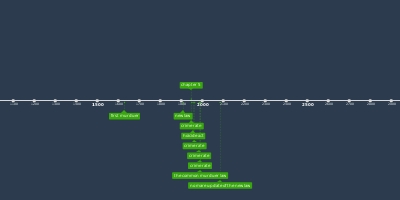 kate
Date: