dec 2, 1935 - Economic Impact of Stalin's Rule
Description:
1. Collectivisation
- Small individual farms were merged into larger collective farm
- It was believed that larger units of land could be farmed more efficiently through mechanisation.
- More crops could be harvested and exported to other countries to raise funds for industrialisation.
- With more efficient farming, surplus farmers could become factory workers.
- By 1935, almost all the farms in the Soviet Union were collectivized.
Measures:
• State fixed a number of crops that farmers were to produce.
• Equipment such as tractors provided by the state.
• Farmers who failed to meet the quota were punished.
• Shock workers used to force peasants to join collective farms and remove kulaks.
Impact on Soviet Union:
- state collected grain to feed the industrial town
- Manpower for new factories supplied by the peasants who left the countryside + support industrialization and increased in industrial output → stronger economy
2. Industrialisation
Aims: Five-Year Plans aimed to rapidly industrialise the Soviet Union > press other box
Impact on Soviet Union:
Stalin's Five Year Plans transformed the Soviet Union into an industrial base for powerful arms industry in 1941
no date
Added to timeline: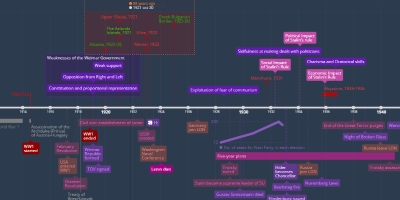 Elective History
Combined Humanities 2267
unfinished; only did Chpt 1-3++
Date: