mar 5, 1770 - Boston Massacre
Description:
March 5, 1770. Started when colonists started throwing snow, ice, rocks, and other things at a British soldier standing guard at the King's bank in Boston, soon after backup arrived for the soldier and one unknown soldier fired at a colonists causing the rest of the squadron to fire, killing 5 colonists. This attack inspired propaganda by Paul Revere which showed unprovoked ruthless British soldiers slaughtering innocent colonists.
Added to timeline: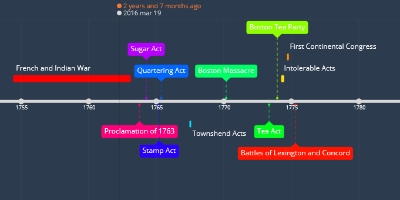 Road to Revolution
Timeline containing important events and information that le...
Date:
Images: