oct 6, 1695 - #Hâb, of the Kai||haun
Description:
The Nama Chief, #Hâb, of the Kai||haun (also called Red Nation), the main group of all Nama groups in Namibia, is probably the first Chief of this community. He is involved in several conflicts with San and Dama groups. #Hâb unifies the Namibian Nama groups (Bondelswarts (!Gami-#nun); Topnaar (#Aonin); Fransman Nama (!Khara-khoen); Veldschoendrager (||Hawoben); Groot Doden (Ô||gain); Swartboois (||Khau-|gõan) and the Kharo-!oan from present-day Keetmanshoop), whereby the Kai||khaun play a leading role. Later the ||Khau-|gõan and the Kharo-!oan are the first groups to separate from the Kai||khaun.
The community government (Nama: !haos di #hanub) consists of the chief (Nama: gao-aob) and some councillors (Nama: |abe-ma-aogu). The family chiefs (Nama: gai-khoin) and the councillors elect among the candidates the most suitable. All candidates must, however, belong to the family of the chief (Nama: gaosib khoin).
Added to timeline: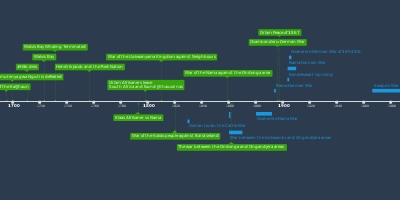 Namibia
Date: