2h 21min, jan 1, 1590 y - 1590: The North Berwick Witch Hunt
Description:
The North Berwick Witch Hunt took place over 2 years from 1590 to 1592. Before this, King James VI was initially lenient about witchcraft. Then, when storms broke out when he was trying to sail to Copenhagen to get married, he started believing that black magic was the reason for all of it. During these trials, about 70 people from Southern Ireland were accused of witchcraft and it was alleged that the accused held their "witch covens" in the town of North Berwick. It is unknown how many were executed, but many people confessed to committing witchcraft, saying that they met the devil and he made them do it. All of the confessions were strangely similar because they were forced out by torture. This implies that the interrogators fed the confessions to the accused people and tortured them until they agreed to the story.
Added to timeline: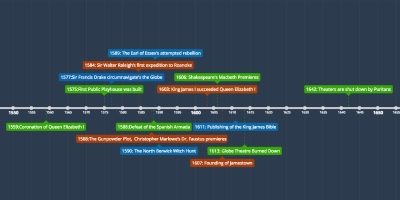 English Timeline
Each partner group completed one event and the research was ...
Date: