2h 21min, jan 1, 1588 y - 1588:The Gunpowder Plot, Christopher Marlowe's Dr. Faustus premieres
Description:
1588-1688:This was a failed attempt to blow up England's King James I by Robert Catesby who was trying to persecute roman catholics. They wanted to replace the protestant government with catholic leadership. Guy Fawkes was found in the cellar of the parliament building with barrels of gunpowder along with other men who were tried and executed for treason.
Added to timeline: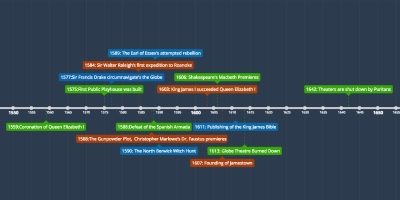 English Timeline
Each partner group completed one event and the research was ...
Date: