jan 1, 1589 - 1589: The Earl of Essex's attempted rebellion
Description:
Born on November 10, 1566, the Earl of Essex, otherwise known as Robert Devereux, was known because of his charm and good favor in the eyes of the queen. Robert quickly rose in position within the English Government. His first notable position was Ward of the powerful Lord Burghley. Robert truly caught the attention of the Queen when he fought the Spanish and captured key leaders. In 1589 he went against the Queen's orders and fought with the English armada. While Robert did become a hero because of his success within the English Armada, the queen wasn't happy and stripped him of everything. As a result, the Earl of Essex lead a rebellion against the government in 1600. This ultimately failed and he was executed for treason in 1601.
Added to timeline: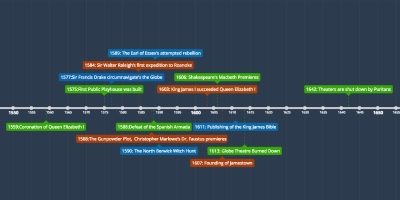 English Timeline
Each partner group completed one event and the research was ...
Date: