0h 25min, apr 27, 1584 y - 1584: Sir Walter Raleigh's first expedition to Roanoke
Description:
While Raleigh never lead the voyages to the New World, he planned them for others to go on.
A group of colonists left England on April 27 1584 and arrived in what is now NC on July 13 1984. However, they failed to establish friendships with the Indians which made for a hard time growing crops and creating a town. They soon returned back to England and the colony was named Virginia after the Virgin Queen.
Added to timeline: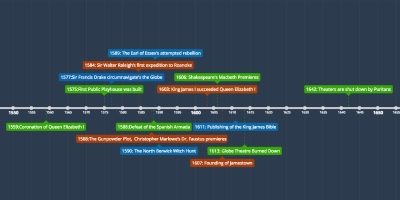 English Timeline
Each partner group completed one event and the research was ...
Date: