19h 8min, jan 1, 1606 y - 1606: Shakespeare's Macbeth Premieres
Description:
It is thought that the play first premiered in 1606. The play is a tragedy about a brave Scottish general named Macbeth who receives a prophecy from a trio of witches that one day he will become King of Scotland. Since he is consumed by ambition and encouraged by his wife, Macbeth murders King Duncan and takes the Scottish throne for himself.
Added to timeline: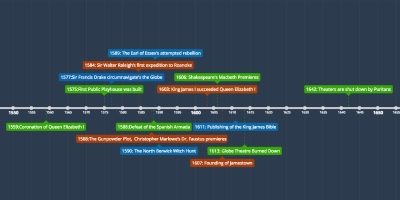 English Timeline
Each partner group completed one event and the research was ...
Date: