11h 8min, mar 24, 1603 y - 1603: King James I succeeded Queen Elizabeth I
Description:
King James I was the son of Mary, Queen of Scots. Elizabeth died on March 24, 1603 at Richmond Palace. She died from a sickness. Secret behind-the-scenes dealings with members of Elizabeth's government paved the way for his succession. It is not known for sure whether or not Elizabeth actually named James as her heir on her deathbed.
Added to timeline: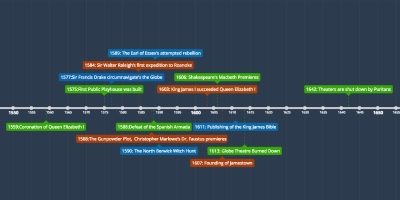 English Timeline
Each partner group completed one event and the research was ...
Date: